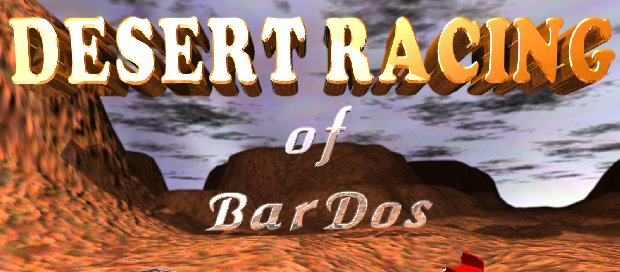 ---
Deutsch - Imprint-Privacy Policy - Main Page - News - Screenshots - Download

ASD - Forum - Order - APC&TCP
---
Main Page Desert Racing of BarDos
With Desert Racing of Bardos we'll show you a racing game that you have never senn on the Amiga before. Use different components for your car depending on your money, drive through amazing animated landscapes and bring your AGA Amiga to boil. In the single or multiplayer modes you'll not only have the possibilty of tuning the performance but also other things.....
We take the meaning of tuning very strict because the you will need the different weapon systems to succeed in the dirty desert races.
To get into the pleasure of Desert Racing of Bardos your Amiga has to be equipped with an AGA chipset or a graphicsboard. A 68040 is minimum. 1,5MB ChipRAM and 32 MB FastRAM are the requirements but more is always better.
Get Desert Racing of Bardos and experience an exiting arcade racing game without getting envious to the PC world....
System requirements:
Minimum: AmigaOS 3.x, AmigaOS 4.x, MorphOS (not Efika) with AGA or graphicsboard, 68040 CPU, 2MB of ChipRAM and 32MB of FastRAM, harddrive, CD-ROM drive A better CPU is recommended.